Imagine a world where your clothes regulate your body temperature, monitor your vital signs, and your necklace begins to glow when the sun goes down.
Today, this is achievable. Modern fashion designers are no stranger to the potential of merging clothing with electronics. MakeFashion is an initiative that introduces designers and makers to cutting edge new technologies: fusing high-tech and high-fashion on the runway.
MakeFashion: Wearable Technology
Launched in June 2012 by a trio of Albertans, MakeFashion hosted its first wearable technology fashion show has produced over 30 wearable tech garments and showcased at over 20 events. We introduce high-end fashion designers and artists to the exciting world of wearables through a series of informative, hands-on, designer-lead workshops. MakeFashion has since hosted three runway galas and has showcased the work of international designers around the world including New York, Rome, and Shenzhen.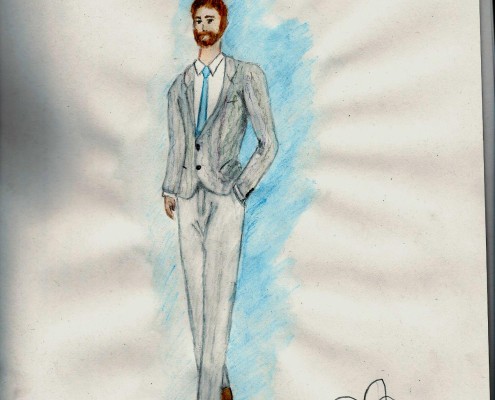 With the Illuminato Suit the wearer can portray their mood or match the color of surrounding décor. This garment will feature fiber optics, LEDs and tactile buttons. Erin has previously showcased in our 2015 wearable tech gala.
Can you believe we're nearly four years old? See some of the recent highlights in our journey in this video by Paul Spenard.
Ex Machina for MakeFashion is an entire costume serving as a way to create a cyborg alter ego that is beyond human both visually and in terms of movement and sound creation. Fibre optics, LED's, micro controllers, accelerometers, proximity sensors, touch sensors, sound sensors, Bluetooth modules will be incorporated as decorative and performative elements.
Laura Dempsey has been a MakeFashion designer since our launch gala. Check out our spotlight video by Paul Spenard.
I have been doing my craft for a long time and I thought that you had to create a name for yourself, defining your work by your individuality. Then I was introduced to this group called 'Makefashion' and all my gains that I made by myself in my many years of work were surpassed in just one 6 month period. I now realize where I may have gone wrong; in not realizing the power of a makers' community.
Eric Boyd and Wendy Ng from Toronto, Canada present 'Soft Power", an exciting project for the MakeFashion 2016. Soft Power explores the possibility of enhancing human expression by incorporating mechanical and electronic aposematism that can be activated either by biofeedback or manual control.
Maria Orduz for MakeFashion is a glamour dress that highlights both innovation and sexiness. The team will use 3D printing, 3D scanning, laser cutting gown enhanced by music activated LEDs and woven colour changing optic fibre details.
Phi:GamerGirl for MakeFashion is a feminine party dress that highlights the Gamification of clothing. This garment will feature a playable game with over 100 individual RGB LED lights that will react if the player wins or loses.
MakeFashion designers and makers include Erina Kashihara, Dr. Patricia Flanagan, Laura Dempsey, Angela Dale, Kyle Nylund, Jeff DeBoer, Elle Nguyen, Rainbow Winters, Vlad Lavrovsky, Ben Reed, and Shannon Chappell. See the full list of MakeFashion wearables designers.
Contact us at info@makefashion.ca to learn how you can be part of our wearable technology movement.
Featured Designers:
An electrified bellydancer with fiber optic clusters and individually addressable LEDs.
Stores and displays data with 16 LCD OLED screens.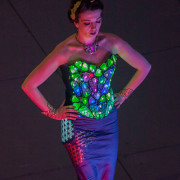 A geometric high-fashion wearable tech collection.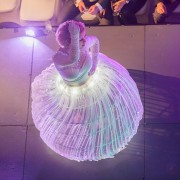 Wedding gown with lights and color controlled by the bride.