Imagine a world where your clothes regulate your body temperature, monitor your vital signs, and your necklace begins to glow when the sun goes down.
Today, this is achievable. Modern fashion designers are no stranger to the potential of merging clothing with electronics. MakeFashion is an initiative that introduces talented local designers to cutting edge new technologies, subject matter experts and wearable technology.
MakeFashion: Wearable Technology
Launched in June 2012, MakeFashion hosted its first wearable technology fashion show and gala on January 25 2013. We introduced high-end fashion designers and artists to the exciting world of wearables through a series of informative, hands-on, designer-lead workshops. MakeFashion has since hosted two sold-out galas and has showcased the work of international designers around the world including Calgary, Las Vegas, and Shenzhen.
Thanks to all who submitted to MakeFashion 2016. Our submissions…
Rev your creative engines: we are excited to announce that the…
MakeFashion designers and makers include Erina Kashihara, Dr. Patricia Flanagan, Laura Dempsey, Angela Dale, Kyle Nylund, Jeff DeBoer, Elle Nguyen, Rainbow Winters, Vlad Lavrovsky, Ben Reed, and Shannon Chappell. See the full list of MakeFashion wearables designers.
Contact us at info@makefashion.ca to learn how you can be part of our wearable technology movement.
Featured Designers:
Fibre-optic wedding gown that responds to bride's pulse.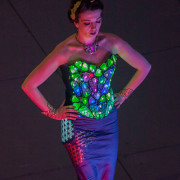 A geometric high-fashion wearable tech collection.
An electrified bellydancer with fiber optic clusters and individually addressable LEDs.
Stores and displays data with 16 LCD OLED screens.