Hacking the Runway: Wearable Technology Meets High Fashion.
Launched in June 2012 by a trio of Calgarians, MakeFashion has grown into the world's largest Fashion Technology community, having developed over 250 wearable tech garments and showcased at over 60 international events. We introduce fashion designers and artists to the exciting world of wearables through a series of informative, hands-on, designer-lead workshops. Our annual gala in Calgary, Canada debuts new collections of innovative fashion technology combined with theatre and performance. MakeFashion has showcased unique projects at fashion and maker events around the world including New York, Rome, and Shenzhen.
Imagine a world where your clothes regulate your body temperature, monitor your vital signs, and your necklace begins to glow when the sun goes down. 
Today, this is achievable. MakeFashion explores the potential of merging fashion with cutting-edge electronics. MakeFashion is an initiative that introduces designers, engineers, and makers to cutting edge new technologies: fusing high-tech and high-fashion on the runway.
From awe-inspiring performance and storytelling on the runway to scientific wearables with practical applications, MakeFashion designers are inspired by fashion with functionality.
Our runway gala in Calgary, Alberta is our largest annual event, where we pair fashion designers and artists with engineers and tech enthusiasts. The combination of skills and ideas creates stunning results and groundbreaking fusions of light, fashion and performance.
In addition to our runway series, MakeFashion produces series of thought leadership symposiums, public-access workshops, and innovative theater and performance.
MakeFashion Founders:
Shannon Hoover – Co-Founder, Chief Technologist

Shannon grew up on a farm in northern Alberta where he learned to build things with his hands and gained an appreciation for the world around him.  His career shifted towards technology and he has worked about 20 years in IT, most recently at WestJet Airlines.  In 2010 Shannon and his wife Maria Elena opened Endeavor Arts gallery with the idea of showcasing the convergence of art and technology – at that point he began his quest to seek out innovation in arts and discovered the Maker community.  He joined Calgary's local Hackerspace, Protospace in 2011 and in 2012 brought the Maker Faire festival to Calgary for the first time.  Since then he has focused on showcasing and developing Maker Culture by hosting workshops, meetup groups, working with schools and libraries and hosting special events like the Make Fashion wearable technology fashion show.
Maria Elena Hoover – Co-Founder, Chief Production Officer

Born and raised in the city of Guanajuato, Mexico, a city filled with history, art and culture, Maria Elena moved to Calgary in 2004.  As a graphic designer she has been doing consulting work for several small businesses, however her passion for the arts became the main focus when her and her husband opened Endeavor Arts in 2010 and ran the gallery for 7 years. Since then she has continued to work to build a vibrant inclusive community around the convergence of art, fashion and technology hosting workshops, events and runway shows in North America and China, where every piece that goes on the runway tells an inspiring story or celebrates a specific culture. She also has been actively involved in the broader arts and maker community in Calgary with Fuse33 Makerspace where MakeFashion has their office and work space.

Chelsea Klukas – Co-Founder, Chief Creative Officer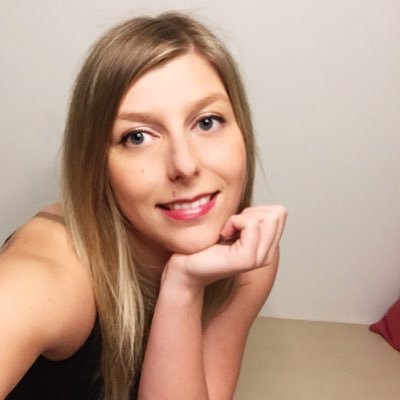 Chelsea is a product design manager at Facebook and an interdisciplinary technology-focused artist. In addition to building great products, she is passionate about building design culture in data-driven environments and driving processes to innovate at scale As a fashion technologist, she co-invented the acclaimed Lumen Couture Projection Hat, and the Lumiere Atelier fashion technology collection. Prior to Facebook, Klukas was a UX design manager at Amazon focused on social consumer products including Amazon Spark and Echo Look. Before Amazon she was the creative director of BeauCoo, a social shopping startup that helped women find clothes that fit, and design lead at Poynt, a cross-platform location-based app with 20M users that pioneered augmented reality features in the early days of iOS.
Carrie Leung – Co-Founder of MakeFashion Edu

Carrie Leung is a native of San Francisco and has added Shenzhen, China as a place she calls home. A Silicon Valley Veteran, Carrie made the shift from her tech and finance career into education, focusing on making relevant education accessible. She empowers young minds and enables communities through making, sharing and collaboration by executing project based learning methods, creating open source platforms and orchestrating grassroots movements in education communities as well as leveraging maker culture to positively connect communities internationally.
After seeing the transformative experience Fashion Tech has imparted on her young designers and makers, Carrie is working to make Fashion Tech accessible to all who are interested, not only as an academic tool, but also as a means of storytelling and self-expression.
Core Team:
Paul Spenard – Media Producer
Paul has been a fixture on the fashion scene for over 7 years as a videographer capturing fashion in motion. He has filmed over 98% of all the fashion events in Calgary and has spread out to cover fashion weeks/events in Toronto, Edmonton and Lethbridge.
Following the careers of dozens of fashion designers across Canada and getting it all on video. When he first heard of Makefashion in its planning stages he knew he had to be involved. Seeing an outlet that brings together the technology world and fashion into one common ground is visionary. New opportunities to breath innovative styles and designs to the fashion world – with technology. Since then he has been filming the majority of the events, galas and behind the scenes – since day one. Paul is an avid videographer, photographer, gaming geek and a budding artist. When not filming or working in the tech world he can sometimes be found bending peoples minds as a magican.
Michelle Swalsh – Lead Hair Stylist
She has always been passionate about hair and makeup design and have been working professionally in the industry since 1999 after studying hair, makeup and TV/film effects. She began her career in England over ten years ago doing hair and makeup for weddings, photo shoots and other special events, as well as special effects in the film and TV industry. In 2009, Michelle moved with her husband to Calgary and started her career here in the foothills.
In Summer 2014 she gained her Red Seal Licence for hairdressing.
Ivonne Arsenault Lead Make-Up Artist
Ivonne started her international modelling career in 2001, before being awarded the title of "Miss Berlin" in 2007. Numerous requests for her advice and styling services combined a strong passion for the arts, inspired Ivonne to chose Hair and Makeup Artistry as her profession in 2011.
Her unique experiences as both a professional model and stylist have given Ivonne the ability to sympathize with model's experiences, as well as mentor many aspiring and professional models alike. Moving to Calgary in 2012 has since opened up many opportunities for Ivonne to express her creativity and skill. These days she enjoys showcasing her talents in editorial photo shoots, fashion shows, and bringing out the natural beauty in brides on their wedding day.
Edward Ross Photography, Official Photographer 2013/14
Other supporting photographers: Kelly Hofer, Zev Abosh, Andras Schram, Justin Poulsen
Lyana Gibert / The Art of Beauty
Michelle Suffolk-Walsh Hair & Makeup
Vjosa Asani MakeUp Artist
Jaimie Rankin Makeup Artist
Debra Kelly Makeup Artist
Christine Murray Artistry & Co., Lead Styling Team 2013/2014
Marion Pécou – Intern 2015
Mary Yohannes Getaneh – Intern 2014
Event Production:
One West Events 2014
Lea Romanowski, Chief Floral Engineer 2013/14
Rocket House Productions, Event Producers and Stage Management 2013
MakeFashion Talent:
Trip The Light Dance Company 2013/14
The Garter Girls 2013/14
Disk Jockeys:
YYC Vinyl: Lonnie Taylor
Paul Sanders, DJ
Contact:

General info and inquiries: info@makefashion.ca