We are excited to announce our designers for our groundbreaking art & technology gala on February 22 2014. Learn more about getting involved in the 2014 gala.
International Designers
MakeFashion will be featuring two international designers headlining the 2014 gala.
Erina Kashihara –  Residing in Japan, Erina has been creating light accessories and dresses since 1985. She describes her work as "Jewelry Art Body with Light" and showcases work worldwide.  Artist gallery.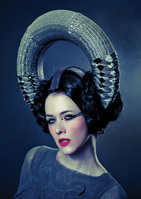 Dr. Patricia Flanagan –  Dr. Patricia Flanagan is a visual artist and assistant professor at the Academy of Visual Arts at Hong Kong Baptist University. She is head of the Wearables Lab and a jewelry studio, and is an established artist with an international reputation.
Returning Designers:
We are excited to have a number of our 2013 designers return for another year in the MakeFashion Gala.
Kyle Nylund & Tony Grimes – Kyle Nylund participated in the 2013 launch with his "skyscraper dress" and in the 2014 gala. Kyle and Tony Grimes are building a high-fashion piece inspired by the illumination of a burning chandelier.
Laura Dempsey and Hannah Newton  – Laura Dempsey created an innovative motion-sensitive dress in the 2013 gala. She returns in 2014 collaborating with Hannah Newton creating a high-tech performance piece.
Kathryn Blair – Kathryn Blair participated in 2013 with her mood-sensing lab coat. She is continuing her exploration with biofeedback this year.
Angela Dale & Vlad Lavrovsky – Angela Dale amazed audiences with her Chameleon Dress in the 2013 gala. Vlad Lavrovsky participated with Team Night Envy and was an integral part of the 2013 gala. The team is working together to create a much-anticipated groundbreaking piece for the 2014 gala.
Emerging Designers:
Our 2014 gala will introduce a number of new artists and designers exploring the integration of technology with their art and design practices.
Kelly Hofer, Dianne Gibson and Catherine Hazin will present an enchanting biomimetic wedding gown constructed with sophisticated fibre optic technology, 3D printing, and a host of sensors. Inspired by fireflies, large feathered birds, and bio luminescent plankton, this revolutionary dress will illuminate in response to the heartbeat of the bride and the color of her surrounding environment, as well as her movement.
Kenzie Housego Amie May, Stacey Morgan, and Dan Damron – Drawing inspiration from retro headwear combined with technology, this artist pair will create a series of headdresses for the 2014 gala.
Jiyi Rhee – This project is a wearable technology piece that combines recent advances in digital projection technology with the Korean Hanbok. Our design focuses on organic integration between traditional motifs and contemporary technological elements.
Elle Nguyen, Aman Dhalay & Javeda – Drawing inspiration from traditional garments, this team will be creating a bold piece utilizing robotics and illumination.
Genene Grant – Formerly ElectroFur, Genene Grant has is established in the wearable electronics space. She is working on an exciting electronic fashion piece.
Eric Willis and Dee Fontans – 'Outing The Body' Series featuring Pumping Fashion. This line celebrates the concept of upcycling, safety and movement.
Shannon Chappell & Kayna Hardman – Designers and makers Shannon Chappell and Kayna Hardman will create an extravagant and creative piece for the 2014 gala.