Thanks for attending our 2014 gala!
International Designers
Make Fashion will be featuring three international designers headlining the 2014 gala.
Dr. Patricia Flanagan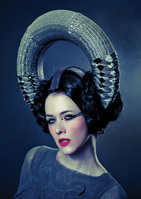 Dr. Patricia Flanagan is a visual artist and assistant professor at the Academy of Visual Arts at Hong Kong Baptist University. She is head of the Wearables Lab and a jewelry studio, and is an established artist with an international reputation.
'Blinklifier' was created by Tricia Flanagan and Katia Vega at the Haptic InterFace workshop, Academy of Visual Arts, Hong Kong Baptist University with funding support HKBU RC-start up grant for new academics.
Rainbow Winters
Rainbow Winters gives the 'wow' factor to the entertainment, fashion and advertising industries with interactive wearable design. Creating a touch-sense-sound multisensory experience. Rainbow Winters has a radically different approach fusing the cutting edge of science with the high-art of fashion to create visually stunning pieces especially made for music videos, rock-concerts, award-ceremonies, advertisements, magazine editorial and red-carpet events.
Based in London, UK the Irish/Swiss artist graduated from Central Saint Martin's in 2006 with a BA in Theatre Design.
Returning Designers:
We are excited to have a number of our 2013 designers return for another year in the Make Fashion Gala.
Kyle Nylund, Tony Grimes and Shawn Ayerst – Kyle Nylund participated in the 2013 launch with his "skyscraper dress" and in the 2014 gala. Designed and constructed by Kyle Nylund, blown glass by Shawn Ayerst, and brought to light by Tony Grimes 'Bloom' is a mixed media wearable sculpture that combines glass, fabric, fiberoptics, wire and LED light.
Laura Dempsey, Hannah Newton  & Ben Reed – Laura Dempsey created an innovative motion-sensitive dress in the 2013 gala and was invited to show the piece she developed at this year's FashionWare event in Las Vegas in January, which featured an innovative motion-sensitive dress. This year, alongside, Hannah Newton and Ben Reed and the SAIT Rad Lab, her Proxima piece features two coats that use proximity sensors that react with each other.
Kathryn and Ryan Blair – Kathryn Blair participated in 2013 with her mood-sensing lab coat. This year the husband and wife team present their Common Experience, featuring deployable origami structures which crinkle as they move. The piece explores biofeedback using a neurosky headset, which measures brainwaves and attention levels with EEG. Kathryn is a returning designer from last year's Make Fashion event, who unveiled her mood-sensing lab coat SOMATIC SYSTEM.
Angela Dale & Vlad Lavrovsky – Angela Dale amazed audiences with her Chameleon Dress in the 2013 gala. Vlad Lavrovsky participated with Team Night Envy and was an integral part of the 2013 gala. The team is presenting Medusa Febulosa, a glowing jellyfish with dancer Kaitlyn Burchnall on pointe.
Emerging Designers:
Our 2014 gala will introduce a number of new artists and designers exploring the integration of technology with their art and design practices.
Catherine Hazin, Kelly Hofer & Dianne Gibson will present an enchanting biomimetic wedding gown constructed with sophisticated fibre optic technology, 3D printing, and a host of sensors. Inspired by nature, feathered birds emotion and beauty, this revolutionary dress softly illuminates in response to the emotional state of the bride. Accessories were designed by Lia Golemba.
Kenzie Housego, Amie May, Stacey Morgan & Dan Damron– Drawing inspiration from vintage styles combined with 21st century wearable tech, this team has created four looks. Each look is informed by a sophisticated, contemporary hybrid sensibility and features accessories, feathers, light, sensors, and robots.
Jiyi Rhee & Janet Mader – This project is a wearable technology piece that combines recent advances in digital projection technology with the Korean Hanbok. Their design focuses on organic integration between traditional motifs and contemporary technological elements.
Dee Fontans, Eric Willis, Maya Lewandowsky and Dave Hrynklw from Solarbotics – present Pumping Fashion Lit, a piece made entirely from up-cycled bike parts including tires, gears and reflectors. It uses pressure sensors built into the garment and shoes that control interactive lights. This line celebrates the concept of upcycling, safety and movement.
Elle Nguyen, Aman Dhalay of Javeda – Drawing inspiration from traditional garments, this team will be creating an articulating dragon garment that features remote-controlled robotics and LED lights that are controlled by the model.
Genene Grant and Vlad Lavrovsky – this team will debut a far out glittering Disco Ball Dress that will arouse your Saturday Night Fever. Inspired by the 70s, this dress is no ordinary dancing queen with flowin' and glowin' fun fur. Showing up fashionably late are two glowing party animals to carry the vibe on until the break of dawn.
Shannon Chappell, Kayna Hardman, Kevin Loney and David Bynoe – presenting The Widow: an articulating robotic spider with proximity sensors.