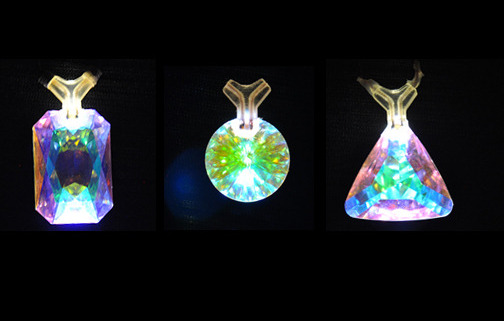 The Nebula pendant is the first of a series of designer LED-lit crystal jewels designed by MakeFashion Designer, Vlad Lavrovsky. View our Kickstarter here!
"When I was designing the gems I found that under certain conditions the light emitted was refracted and scattered in ways I had never seen before. I work extensively with LED's and diffusion mediums, so I knew that if I had never seen it then it was something that must be shared." – Vlad Lavrovsky, Designer, Engineer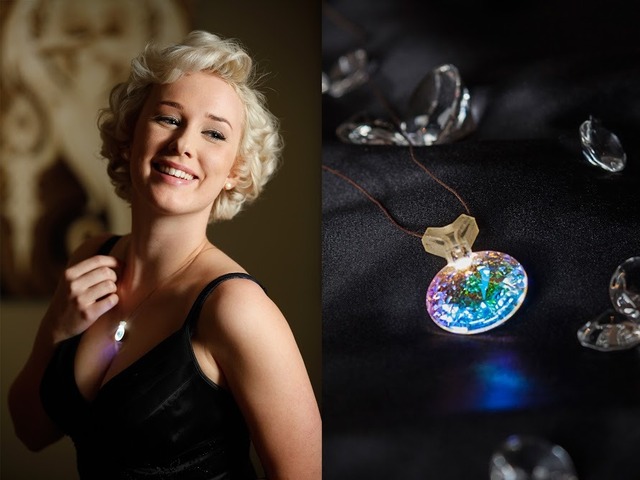 The scattered, coloured lights that are inevitably projected onto the wearers skin or clothing are what inspired the Nebula's name. This same effect can be admired on a grander scale by hanging the pendant near a wall or window.
The Nebula is a completely customizable jewelry piece as the conductive thread can be re-strung, with glass or plastic beads. This makes it the perfect gift for anyone who loves to design beaded necklaces, and gives the wearer the opportunity to create a unique design every time it is worn.
The pendant consists of a beautiful faceted crystal which reflects a myriad of colours in changing light. The jewel is connected to a thin, conductive thread leading to a "clasp" where a battery and a micro-controller are contained. Every pendant is hand-built using 3D printing, conductive thread and high efficiency LED's with the intent of producing optimum brilliance, clarity, unique colour and a beautiful illuminated effect. Every pendant has been programmed with several display modes to allow you to adjust the pendant's brightness, pulse speed and behavior to allow you to create the best effect in your current environment.
Technical Specs:
Processor: 4MHz ULV 8bit AVR
Drive current: 8mA
Input Voltage: 1.8-5.5V
Maximum LED drive voltage: 18V
LED Forward Voltage: 3V
LED Output: 1000mcd
Battery: CR2032