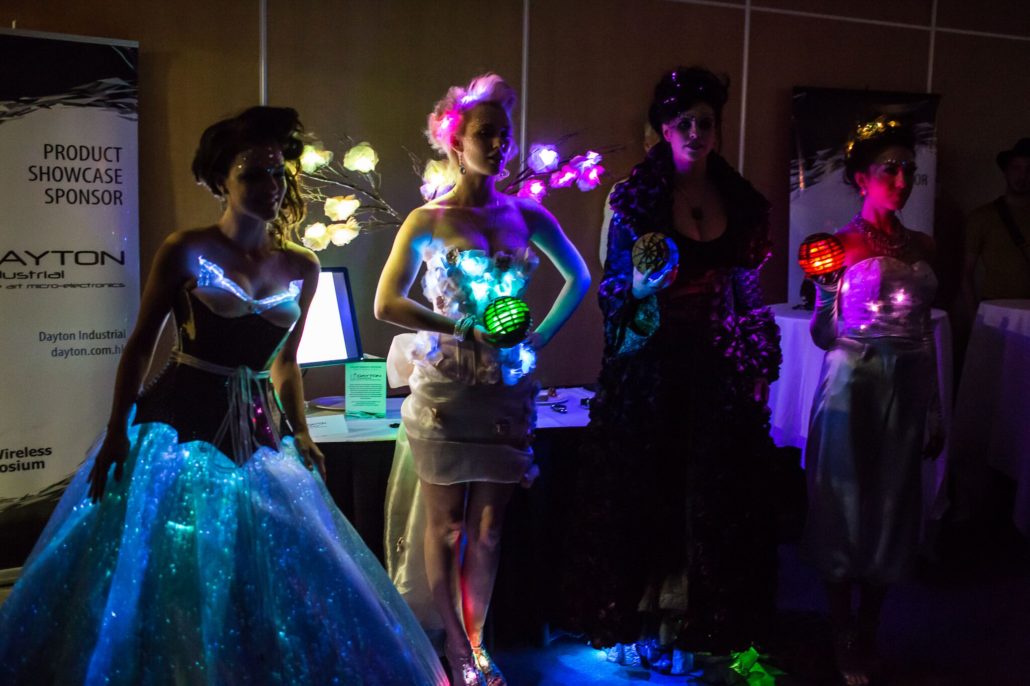 Last week we at MakeFashion were invited to attend the ANT+ Wireless Symposium in Banff. There we hosted a mini fashion show with two pieces from our previous shows, two brand new fashion tech pieces, as well as an interactive installation using ANT+ technology.
ANT+ is a symposium where leading industry developers, producer marketers, and executives in the technology world can meet up and network during a three day event full of talks, workshops, and activities.
Archeloft makerspace, MakeFashion's home, hosted several work nights for designers and engineers prior to the ANT+ symposium, LEDs, wires, fabrics, circuit board,  laser cut wood bases and vellum lanterns, you name the material and it was probably available at our makerspace. But we did it. Everyone was exhausted, but so excited to see the pieces up and running.  After months, weeks, days, hours, of working, coding, sewing, planning, we were all packed up and headed off for Banff.
ANT+ took place at the Banff Centre. The Banff Centre is a learning organization and is leading globally in arts, culture, and creativity. Their goal is to inspire artists, leaders, and thinkers to unleash their creative potential. If you've never been there, the space is beautiful. A glass building nested in the heart of the beautiful Canadian Rocky Mountains.
Although there wasn't much time for us to relax and take in the mountains. Once the entire team made it to Banff we were busy planning how the runway would go and putting together all the pieces for the show.
Lanterns were assembled, lights were programmed, our makeshift runway was strutted on, hair and makeup was applied. We were all running around trying to make sure everything would work well, that the show would go off without a hitch. The entire performance was about 10 minutes long, but hundreds of hours of work were spent to make sure that it would go off smoothly.
The lanterns were a huge hit. The lantern project was a collaboration with Light Box Project, they are a catalyst member of the Archeloft dedicated to creating unique products that empower others to express their individuality.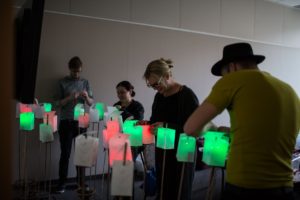 The lanterns were constructed with a forest of lights in mind. A laser cutter was used to cut intricate tree branch designs on the vellum material. There were thirty lanterns each with a string of LEDs connected to an ANT board with a proximity sensor.
Each Lantern was triggered by a laser cut wooden orb that was set to a different colour. The closer an orb was to a lantern the stronger that specific coloured light shows on the lantern. Bring in a different coloured orb and the lanterns fight for dominance, flickering from blue to red, green to yellow.
The experience was phenomenal. The MakeFashion family thrives on the collaboration of different creative minds, from artists and designers to engineers and the tech-savvy, when they come together they can make amazing things happen.That was the beautiful part of attending the ANT+ event. We got to see each other and build on ideas. We're re-energized, getting ready for upcoming fashion tech shows around the world, and excited to start preparations for our MakeFashion gala in the spring of 2017.
We'd like to thank our sponsors at ANT+ for allowing us to be apart of this event and for the opportunity to showcase our designs. Also a huge thank you to our wonderful MakeFashion team: our designers (Sydney Pratte, Sherry Bobbins, Matt Laprairie, Alexandra Catrina), engineers (Teddy Seyed, Braden Mund, Preston Haffey, Kelly Hofer), photographer (Zev Vitaly), makeup artist (Michelle Suffolk-Walsh), hairstylist (Jason Mellor), models (Chelsea Heyblom, Rachel Kieper, Millie Jayne, Alexandra Catrina), DJ (Paul Saunders), producers (Shannon Hoover, Catherine Hazin) and volunteers (Maria Hoover, Mary Yohannes, Sandra Epp, John Myrowich).
Photos courtesy of Zev Abosh
http://www.makefashion.ca/wp-content/uploads/2016/10/unspecified-5.jpeg
1365
2048
MakeFashion Staff
http://www.makefashion.ca/wp-content/uploads/2016/03/makefashion_logo.png
MakeFashion Staff
2016-10-12 10:00:27
2016-10-23 00:33:37
ANT+ Wireless Symposium