MakeFashion Spotlight is an insider's look on our 2014 gala pieces. Follow us as we showcase each of our designers and the inspiration and technology behind their work.
Video by Paul Spenard
Illuminated Vintage was created by Amie Mae, Stacey Morgan, Kenzie Housego and Dan Demron.
"We are all originally from Alberta; Stacey Morgan and Amie Mae grew up in Calgary. Kenzie Housego is from Northern Alberta, and moved to Calgary in 2005 to attend art school. We believe Calgary is an exciting place to be right now for the arts. There is always new events and projects happening.Calgary seems to be a close net arts community, that is welcoming and collaborative.
MakeFashion 2014 was our first introduction to wearable technology. Amie, Stacey, and Kenzie all met completing their Bachelors for Fine Arts from the Alberta Collage of Art and Design. Amie majored in Jewellery and metal smithing, Stacey was in the Fibre program and Kenzie was in the Print Media department. Stacey participated in numerous wearable art shows at ACAD and Art Central, and continues to create event and wedding dress as well as other commission garments.
We created a collaborative four-look wearable art collection drawing inspiration from vintage styles, combined with 21st century wearable tech. This team looked to incorporate, accessories, feathers, light, sensors, and robots, all informed by a sophisticated, contemporary hybrid sensibility. Each piece used technology and design in a unique way while belonging together in one solid aesthetic collection.
We started with vintage inspiration images of styles, hats and accessories. Stacey drafted several dress designs and through multiple conversations we stream lined our concept and decided to focus on a featuring a specific colour per look. Which really help us as individual artists create a coherent collection .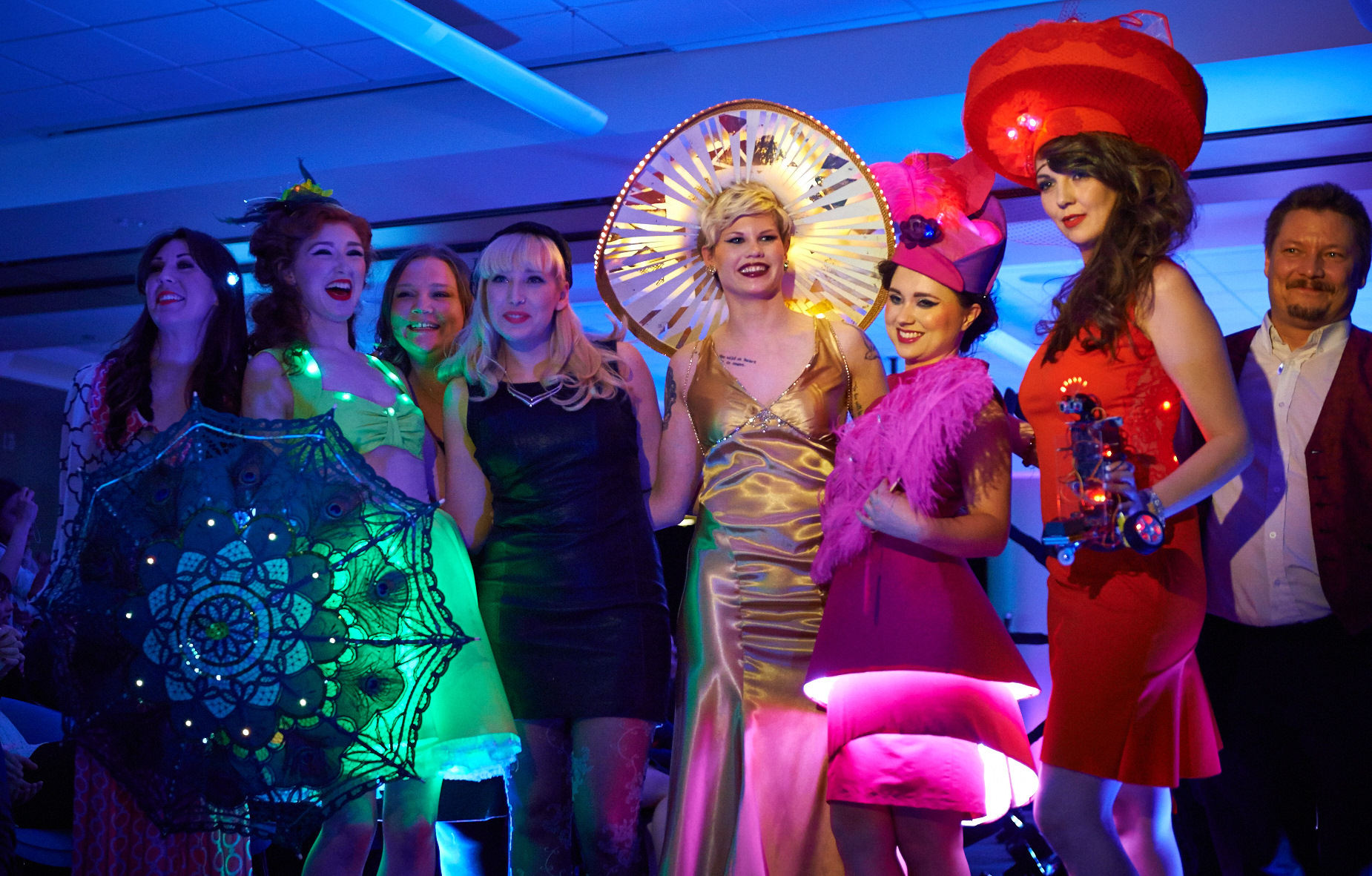 The gold look is a romantic design inspired by the decadence of the 20's. The dress created by Stacey is a bias cut satin design, based on the the popular lingerie style of the time. The gold created by Amie attempted to pick up in this romantic mood by incorporating transparency and light. This hat also includes a light feature is the brim of the hat that pulses to the wearers heat beat.
The red look represent a more 40s – 50s look with a classic shirt dress design with lily pad lights and an avant-garde hat featuring EL wire and multiple light accents. (Hat by Amie, Dress by Stacey)
The green look definitely inspired by a garden party 50s them. This dress has a sweetheart neckline decorated with the lily pad twinkles, and a sexy exposed mid-drift adding a contemporary sensibility. (Hat by Kenzie & dress by Stacey)
The pink look was inspired by the show Mr. Selfridges featured in the 1910s world war one. The multiple tears of the skirt were accented with under-lighting which created an individual spot light for the wearer. The hat for this look used audio circuit technology, which pulsed to in a pink/purple spectrum to music. This model carried a pink feather fan that used gyro scope and programable LED, that light up with the users movements. (hat by Kenzie & Dress by Stacey)
When we spoke to the team about using accessories and as a large component to our pieces, they mentioned that one of their engineers was building robots! The idea of accessory pets was interesting to us and we decided to partner up with Dan Demron.
As this was our first time working with wearable tech, there definitely was a learning curve, in that within our planning stage we did not initially think about concealing cords, housing batteries, while allowing for the movement of the wearer. We learned a lot through working with the technology, and there were several instances where we needed needed to come up with creative solutions, to keep the integrity of our concept."
The 2014 MakeFashion gala brought to you by OnConference in March 2014 had over 400 attendees and showcased an inspiring collection of local and international wearable technology. E-mail info@makefashion.ca for information on how to become involved as a volunteer, designer, tech enthusiast, or sponsor.
http://www.makefashion.ca/wp-content/uploads/2014/04/fashion-photography-by-andras-schram-63.jpg
3840
5760
Chelsea Klukas
http://www.makefashion.ca/wp-content/uploads/2016/03/makefashion_logo.png
Chelsea Klukas
2014-05-10 20:59:54
2014-05-11 17:27:23
MakeFashion Spotlight: Illuminated Vintage