This weekend Beakerhead hosted MakeFashion's very own TechBurlesque during Beakernight. TechBurlesque was everything you expected it to be, glitzy, bold, and sexy. For those of you who missed the show (we won't judge you for it), we've got an excellent recap of what went down at Calgary's only techy burlesque show.
Burlesque started out as a risqué kind of parody a few hundred years ago. Recently burlesque has morphed into an art form for the culturally adventurous and is now seen as a sexy, comedic, dance performance that has been widely accepted in modern day society.
Traditionally the world of burlesque is filled with tulle, tassels, wigs, bright boas, and bustier. TechBurlesque took all those elements but welcomed the art to the 21-century with outfits that lit up.
TechBurlesque was everything you expected it to be: glitzy, bold, and sexy.
Located at the Beakernight event and hidden by giant glowing lotus flowers, the open air stage changed colours from purple to blue. The event opened with a funny speech from the charismatic Justine Tyrell, the official presenter for the evening, who was dressed in last years pink Illuminated Vintage dress, topped with the matching hat that lights up to sound.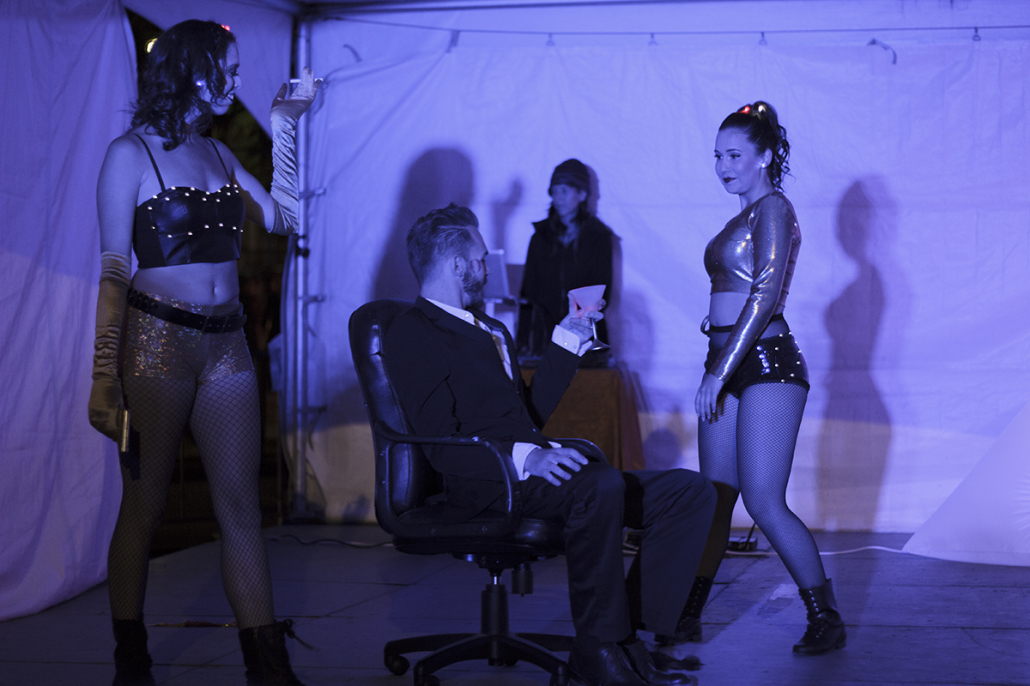 The lights turned to blue as the James Bond theme started up. Max, the resident Bond, smirked as he graced the stage eyeing Beatrix Rouge dressed in a black dress and red boa, unlucky for bond he was pushed him back onto a sleek leather chair and tied him up. But of course behind every great man, is an even greater woman (in this case three), decked in gold shorts and black shirts that lit up the 007 girls danced their way onto stage saving Mr. Bond's butt.  He looked much more in his element once untied, cigarette between his teeth, and martini in hand.
After a quick intermission, Whiskey Sugarbush graced the stage dressed in a stunning white two-piece with glitzy jewels and lights sewn into the outfit. She looked breathtaking as she danced across the stage to 'Diamond are Forever.' And elegant as she pulled her white satin gloves off with her teeth. Next up was Beatrix Rouge's solo to 'Hubcaps & Tail Lights'. She strutted the stage with force, she flirted with the audience reaching for her zipper before stopping and giving a coy smirk. She was playful and enticing to watch. The two solos completed each other perfectly, dangerous, sweet, elegant, and sexy.
The show closed with another dance with Bond and the 007 girls, this time to the 'Skyfall' remix. The most memorable part and loudest was when Mr.Bond himself stripped and danced in nothing but a golden speedo, who said white boys can't dance?
The event concluded with Shannon and Maria Hoover congratulating the team and everyone that came together to make TechBurlesque such a spectacular event.
– Photography and article by Mary Yohannes Getaneh, a second year Journalism student at Mount Royal University and our MakeFashion intern.
http://www.makefashion.ca/wp-content/uploads/2014/09/bond-smoking.jpg
800
1200
MakeFashion Staff
http://www.makefashion.ca/wp-content/uploads/2016/03/makefashion_logo.png
MakeFashion Staff
2014-09-19 17:43:54
2014-09-19 18:12:50
TechBurlesque 2.0 Recap