Make Fashion 5.0 will be held on April 1st, 2017 at the TELUS Spark in Calgary, Alberta. We have our submissions in and teams are busy creating their intricate designs. Enjoy a sneak peek on a few more of the pieces that will be showcased at the gala and background on the makers behind the project.
1) Team: Phi: Illuminated Design (Kenzie HouseGo, Stacey Morgan, Sophie Amin)
Project: "True North"
Inspired by our northern Canadian landscape and the night sky "True North" explores the human relationship to the earth, magnetic fields, and Canadian climate in a delicately visual way. The 2 piece garment consists of a lace like top and a flowing skirt that will incorporate LED's, fibre optic tubes, and a mountain / skyscrape illustration. When the wearer is facing north the front skirt panel will light up, as the wearer turns away from north the light strip will fade with a delay.
Phi:Illuminated Design is a new-media collective focusing on performance, wearable art, and wearable technology and is constantly seeking methods and media that engage and empower cultural participants through technology. Phi has worked with MakeFashion since 2014 and have had their work displayed all over the world.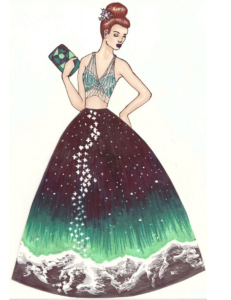 2) Team: Phi: Chelsea Klukas, Chris Corner, and Kyle Nylund
Project: "Lumen Couture 2.0"
Lumen Couture 2.0 will have image stabilisation and a new, lighter, framework. The hat will integrate a computer hard drive, multiple projectors, and projection mapping software to allow the model to freely move and fully rotate her head without the image shifting. Last year the hat went through three concept stages before finding the winning look.
Chelsea Klukas is the Co-Founder of MakeFashion and a creative leader. She is a design manager at Amazon and is passionate about developing designers into leaders by inspiring creativity and big thinking.Chris Corner is a telecom engineer, and entrepreneur. Following on to his international career in the telecommunications industry, he co-founded Conference conference calling where he is now CEO. Kyle Nylund has Bachelor of Fine Arts majoring in Fibre and is a freelance artist and designer. His work has been exhibited his work at several galleries and special event and has been accredited in multiple publications.
2) Team: Dilek Sezen and Kenan Arun
Project: "2HOT2COLD" and "Twins"
"2Hot2Cold" is a hat integrated with cooling technology and a choker style scarf with integrated warming technology.
"Twins" are two fifties style dresses which are designed using 3D layers and tyvek, with variated patterns of each other. The materials are flexible and non-flexible filaments, sinamay, tyvek, and finishing details such as satin and crystals.
Based in San Francisco, Dilek Sezen is an internationally acknowledged, award winning, designer who has been focusing on 3D printed designs since 2012. She's displayed her work at many fashion tech shows around North America. Kenan Arun has been working with stage and FX makeup since 2008 and has been worked for many plays, fashion shows, and tech conferences.
Remember, MakeFashion 5.0 is the first time these pieces will be showcased, so make sure you get your tickets. Buy them here! https://www.eventbrite.ca/e/makefashion-gala-runway-show-50-tickets-29685254395
http://www.makefashion.ca/wp-content/uploads/2017/01/makefashion_fashiontech_runway_gala.png
900
2000
MakeFashion Staff
http://www.makefashion.ca/wp-content/uploads/2016/03/makefashion_logo.png
MakeFashion Staff
2017-01-18 19:03:28
2017-01-30 00:50:22
MakeFashion 5.0 Sneak Peek (Part 2)