Make Fashion 5.0 will be held on April 1st, 2017 at the TELUS Spark in Calgary, Alberta. We have our submissions in and teams are busy creating their intricate designs. Enjoy a of a sneak peek on a few of the pieces that will be showcased at the gala and background on the makers behind the project.
1) Team: Kathryn + Ryan Blair
Project: "Automata"
The concept of 'Automata' is to explore the interaction between performer and audience and have that interchange visible to all audience members. Audience members wearing brainwave data EEG headsets will combine with the brainwave data of the model to control the light and movement of the mechanical "clockwork" system harnessed to the model. That interplay will be made visible to everyone in the audience.
Kathryn Blair is a visual artist and has been working with MakeFashion since 2013, some of her other pieces include To:gether (in collaboration with Missvelvetcream) and Common Experience. She is currently working on her MFA in Visual Art. Ryan Blair is the mechanical and electronics support of the team.
2) Team: Luminati: Ayush Singh, Arjav Parikh, Akshay Chawla
Project: "A Thousand Eyes"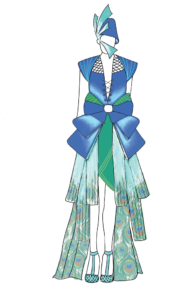 Luminati is a team of three from India. The team members include Ayush Singh (fashion designer) who has years of experience working in the fashion industry. Arjav Parikh (tech designer) a new graduate with a passion for engineering, and Akshay Chawla (hardware hacker) a massive tech devotee. Some current projects the team is working on are affordable smart garments and electronic accessories.
'A Thousand Eyes' is a dress inspired by the alluring peacock which is associated with many Indian myths. The garment consists of a headpiece and a dress all coloured to resemble a peacock. The dress will have a rising mechanism that lifts the dresses feathers upwards on commands and the lighting effects on the surface give it the shimmering resemblance of the bird.
3) Team: Angel Aubichon-Manitopyes
Project: "Good Medicine"
Angel Aubichon-Manitopyes is an Indigenous designer from Northern Saskatchewan who likes to mix traditional materials like horsehair, feathers, leather, and beadwork with wearable tech.
"Good Medicine" is a commemorative piece to the 1400 missing Indigenous Women. Using traditional Powwow dance the Jingle dress would light up with the movement as a vigil to the women. The dress will include laser cut leather appliqué and 3D printed resin accessories that light up as well.
Remember, MakeFashion 5.0 is the first time these pieces will be showcased, so make sure you get your tickets. Buy them here! https://www.eventbrite.ca/e/makefashion-gala-runway-show-50-tickets-29685254395
http://www.makefashion.ca/wp-content/uploads/2017/01/makefashion_fashiontech_runway_gala.png
900
2000
MakeFashion Staff
http://www.makefashion.ca/wp-content/uploads/2016/03/makefashion_logo.png
MakeFashion Staff
2017-01-12 03:32:20
2017-01-12 20:01:34
MakeFashion 5.0 Sneak Peek